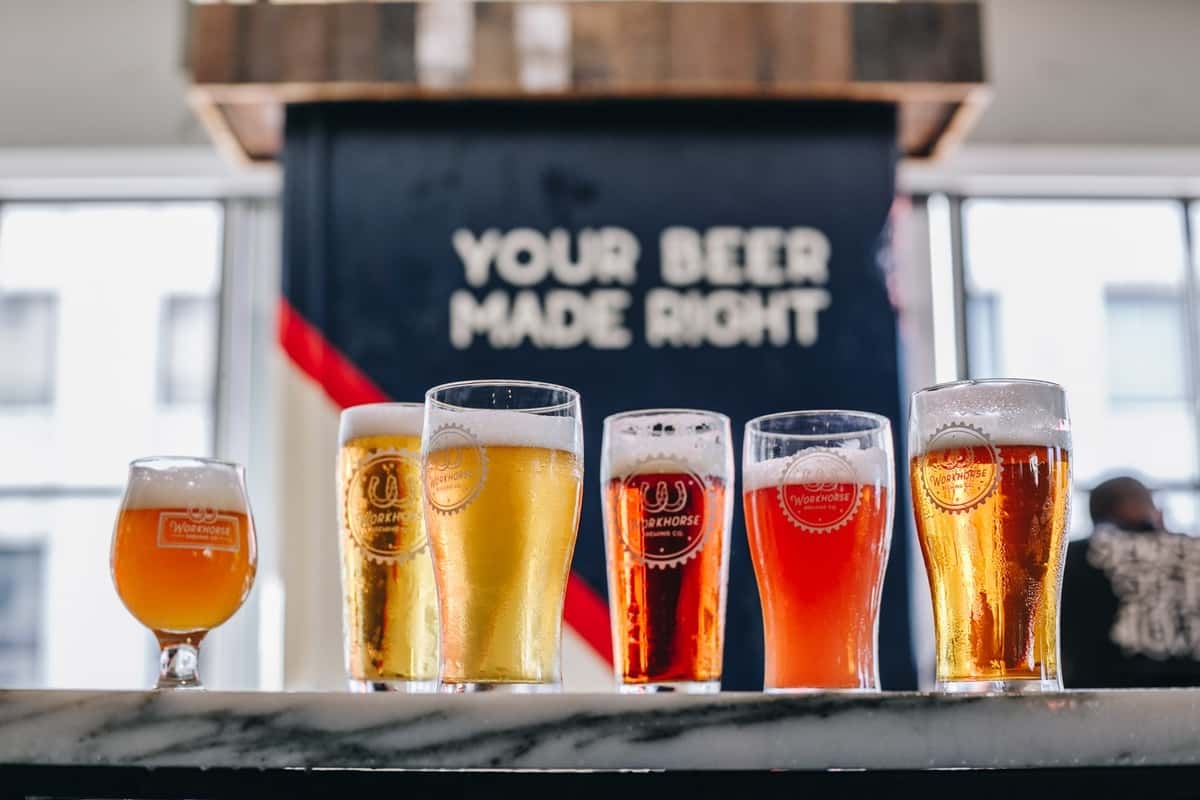 Frequently Asked Questions
Taproom
What are your hours of operation?
Our taproom hours are Monday-Thursday from 3pm-9pm, Friday-Saturday 11:30am-10pm and Sunday 11:30am-9pm.
250 King Manor Drive, King of Prussia, PA 19406. Only 10 minutes from the King of Prussia Mall and 5 minutes from the Valley Forge Shopping Center!
Click the button below, or visit our "On Tap" tab at the top of our website, to view our updated draft list.
Do you have a Happy Hour?
Sure do! Monday-Friday from 5-7pm.

We understand that not everyone drinks beer, so our happy hour includes wine, cider, and cocktail options as well!
Do you take reservations?
Short answer, no. We are a first come, first served establishment.

Long answer, kind of. We do accept volume-dependent "soft holds", where we can set aside a table(s) for your party.

Should you want a guaranteed space for a larger party, we recommend inquiring about our private and semi-private event options. 
You betcha! Stop by our merch stand (right as you enter/exit) the brewery to check out all the delicious takeout brews we have available. Or click the button below to visit our online shop.
Do you serve food? Can I bring my own?
We do! Thanks to our hardworking kitchen crew, our on-site food truck offers a full menu of approachable pub fare. 

Since we offer food service through our own on-site food truck, we are no longer allowing offsite food to be brought into the taproom or beer garden.
** However, we do allow outside desserts (e.g. cakes, cookies, etc.) to be brought in **
Do you have parking available?
We have over 150 parking spots at our brewery, so unless you're being accompanied by an armada of vehicles, we've got you covered.

We also encourage safe and responsible travel to and from the brewery and suggest using ride sharing apps (Lyft, Uber, etc.) when possible.
Do you serve non-alcoholic beverages?
We do! We offer a range of N/A beverages, including soft drinks & juices.
I don't really like beer. Do you have wine/liquor available?
We have a selection of Wine, Spirits, and Ciders available in our taproom. For more information, visit our "On Tap" page (or click the button below) and scroll down.

We also encourage you to chat with one our bartenders! They love to recommend options to our guests, and are great at finding something for everyone.
Of course! We pride ourselves on being family-friendly.
However, unsupervised children will be put to work, helping our production team count hops.

** Occasionally we host 21+ events, so be sure to check out our events calendar before planning your trip. **
Unfortunately, since we make food in-house, PA law prohibits the accompaniment of furry friends in our taproom [unless they are a service animal].

During warm weather months though, we are more than excited to host adorable four-legged guests in our outdoor seating area!
What is this, a center for ants?